How the Internet of Things is Changing the Way Healthcare is Delivered
At the physician-patient level, the Medical Internet of Things and remote patient monitoring holds a lot of promise.  But there is another promising benefit for the healthcare executive that must make strategic decisions in an environment of shrinking reimbursements and growing demands; the abundance of big data that can obtained through this technology.
In this paper we're going to look at this strategic benefit, how it came about, and examples of how remote patient monitoring can benefit the healthcare enterprise.
In a small, rural town in northern Michigan,
4 doctors,
4 physician assistants and
1 nurse practitioner plus support staff,
…could not keep up with demand for services within their clinic.  Between routine visits, preventative care and urgent care, everyone in the office was overloaded.  Their patient panel size was out of control.
They were also becoming increasingly concerned about a fourth patient demographic that needed their services more routinely within the constraint of crowded scheduling; the chronically ill.
While they couldn't add hours to the day, the group decided they would actually increase access to this patient group for whom more connection to care would be advantageous: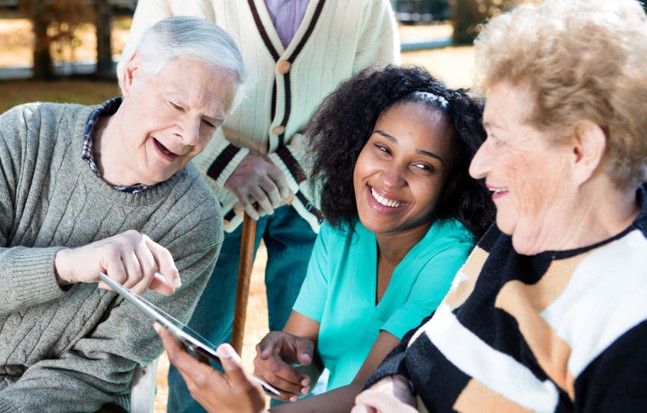 They implemented remote patient
monitoring and virtual visits.
The implementation would go further than simple face time between medical staff and patients on a computer or tablet with someone asking, "How are you today?"
To make virtual visits more meaningful, various vital signs would be automatically forwarded to the clinic from the patient's home.  Staff could then monitor a patient's condition and disease progression, offering intervention when needed.  It would be as though the patient made daily doctor visits but without the travel or crowded scheduling.
The Internet of Things Comes to Healthcare
In rapidly growing numbers hospitals, medical systems, insurance companies, employers, and clinics, even like the one in a rural northern Michigan community, are connecting remotely with patients to drive better outcomes, reduce costs and offer greater access to care.  This connectivity is made possible through recent technology called the Internet of Things (IoT).
The IoT is a virtual network of devices, such as a pulse oximeter or blood pressure monitor, that have been embedded with software, sensors and internet or satellite connectivity.  This allows the devices to "talk" to other devices and exchange information; i.e. send vitals to an Electronic Health Record (EHR).  The healthcare team can then immediately and effectively communicate with patients during a virtual visit.  Its implementation was a literal lifesaver for the country clinic and its chronically ill patients.
But before you mistakenly believe this development only provides an exchange of information between a doctor's office and a patient, consider the possible bigger picture of what drove this small clinic to implement virtual healthcare in the first place.
To do that, we need to look at how the Internet of Things came about and why it was developed.  The IoT was created for commercial and industrial applications.  Its original purpose was to enhance the three drivers of big data:
The ability to gather vast amounts of information.
Being able to gather a variety of information from numerous sources.
Obtaining a "big picture" view very quickly and make decisions from the data.
This allowed, for example, manufacturers to track the lifecycle and use of their products, track performance and schedule maintenance.  They would discover new uses or markets because of the data transmitted by the device.  Retailers would be able to take an instant inventory and make buying adjustments from across their multiple locations.  The acceptance of the Internet of Things rested largely on the data it could provide.
It was somewhat of a surprise to the tech and industrial worlds, therefore, when the medical community looked at the IoT and saw many useful applications.  Through a layer of "middleware" which protects HIPPA information,
CMS, insurers, and the Veteran's Administration could use data collected from patients' devices to test and promote value-based care or high value care in an effort to drive better outcomes at reduced costs.
Pharma could now connect patients to results during drug development, clinical trials and patient care, even to the point of developing an extension to their existing drug business; creating wearables that would provide specific medication management.
Hospitals and medical systems could predict and alter the risk of those who were susceptible to re-admissions, both at the informational/conceptual level and at the practical level through the promotion of patient behavior and care modification.
And finally, with the middleware removed and direct reporting of vitals to physicians, non-physician staff could now connect with chronically ill patients on a frequent basis and (if need be) intervene when minor warning signs pointed toward more complicated, avoidable episodes.
All of this was the result of someone connecting a devise with communication technology to develop the Internet of Things for data gathering.  Now it is predicted the medical application, or Medical Internet of Things (mIoT), will become the biggest category of Internet of Things use; representing 40% of the industry and a $117 billion market by 2020.①
When it comes to medical applications, the Internet of Things realizes its core purpose of being able to gather vast amounts of varied data quickly for decision making, but it goes a lot further:  It has the potential to change the way care is delivered while reducing inefficiencies and optimizing the day to day lifestyle and outcomes for patients. 
① Bauer H, Patel M, Veira J. The Internet of Things: sizing up the opportunity [Internet] New York (NY): McKinsey & Company; c2016.